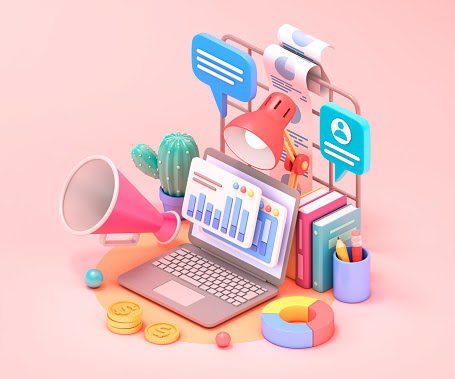 Your small business has a lot of potential when it comes to advertising online. Whether it's brand awareness, revenue, or conversion rates, a solid digital advertising approach may dramatically improve your company's performance.
Small businesses usually start out with only one goal in mind: to grow. However, word-of-mouth recommendations alone are not going to cut it in this day and age. Advertising and product placement are also important factors to staying competitive. Digital marketing methods are critical for businesses seeking to raise brand awareness.
Digital marketing has a whole host of benefits to a new business, and in this article, we will uncover the advantages of digital ads and help you learn how you put them to work for your company.
What is Digital Marketing?
The name says it all. The purpose of digital marketing is to make potential customers aware of products and services you sell, and why they should buy them from you over someone else.
The Basics of Digital Marketing
1. Your Website
No matter how active you are on social media, Twitter, Instagram, or Facebook can't replace a business website. Websites are the digital home of your business, the only place you can completely control the message you share online. Today, there are so many features you can add to a website, but they do not have to be fancy, what is most important is that they are mobile-friendly.
2. SEO
SEO (search engine optimization) is the process of increasing traffic to your website by targeting the organic (non-paid) search results on search engines. SEO encompasses many moving parts, including the use of keywords on your website, your social media presence, external links pointing to your site, and others.
3. Social Media Marketing
The term social media marketing refers to any activity promoted through a social media profile or platform. Currently, 7 out of 10 consumers expect businesses to maintain a social media presence, and 17% of consumers use social networks when looking for information about a business. Among the most popular social media platforms are:
Social media platforms aren't all created equal, so selecting the wrong one could cost your campaign its success. At most, you should be active on four social media platforms (unless you have a dedicated team devoted to social media).
4. Marketing through Content
In this practice, you create digital content (like blog posts, ebooks, white papers, infographics, videos, etc.) and share it with the world. The goal is to entice users to view your content and then take the desired action. If you write a blog post about "How to Get Rid of Termites and Save Money", you might include a call-to-action like "Get a free estimate."
5. Customer Reviews and Ratings
Even if you don't consider online review sites as part of digital marketing, they play a major role in how prospects evaluate your business. About 56% of consumers read at least four reviews before buying a product, and 8 out of 10 customers review local businesses online, with businesses that include reviews seeing 3.5 more conversions than those that don't. Add photos, descriptions, directions, and offers to your listings on review sites just as you would on your Google Business Profile (GBP). Ensure you monitor your reviews regularly and respond to negative reviews as soon as possible (and politely).
Key Takeaways
The direction you take with your digital marketing depends on what you have learned, what your digital strengths are, and your weaknesses. When you hire a digital marketing company like FineTuned Digital, you get a group of experts determined to help increase your leads and sales, optimize your marketing costs, and differentiate your brand.
It may appear challenging to create an efficient digital advertising campaign, especially if you are doing it on your own. We make the process simple. Visit our website to understand how we can assist your company in achieving meaningful campaign outcomes or just schedule your marketing audit with one of our experts today!